ABOUT US

Pastor Ronald and First Lady Toforya McCoy are the founders of Faith, Hope and Love Community Church, Inc., "A Family Church Where Family Matters". Pastor McCoy and his wife have been in ministry for over 20 years. They each have unique speaking abilities which transcends barriers of race cultural differences. Their teachings open up the Bible in such a way that refreshes, inspires, and uplifts those who hear. Pastor Ronald McCoy after graduating from high school, had the desire to serve his country, therefore he immediately enlisted into the U.S. Navy where he eventually graduated at the top of his class in Communications. Pastor McCoy attended Friendship Tabernacle Full Gospel Church in Agana, Guam. There he not only surrendered his life to the Lord but also received the call of God into the Gospel Ministry. Wanting to pursue higher goals for his life, he later resigned from the U.S. Navy and attended Central Florida Community College, in Ocala , FL. and International Seminary in Plymouth, FL., receiving a Bachelor of Arts degree in Theology and a Master's Degree in The Ministry of Christian Counseling. First Lady Toforya McCoy attended Central Florida Community College and Florida Southern College, receiving a Bachelor of Arts degree in Elementary Education. They believe that by men and women hearing the Word of God illumination and transformation takes place in the lives of people, families, finances and marriages. They have committed and dedicated themselves to "building the old waste places", through their faith in God, their experiences in ministry, personal relationship with each other, education and over 15 years of successful Entrepreneurship.

STATEMENT OF MINISTRY CONCEPTION

After being ordained to the office of Pastor, in November 2007, I along with my wife founded "Faith, Hope and Love Fellowship, Inc." in Ocala, Florida. Our ministry motto was and remains "A family church where family matters". It was our hearts cry to extend to our community, Faith, Hope and Love, which was conceived out of I Corinthians 13:13 AMPL, "And so Faith, Hope and Love abide, these three; but the greatest of these is Love". We understood that without Faith it was impossible to please God, we understood with Hope deep within the heart of people, it causes them to hold on when the circumstances speaks to the contrary and we understood that Love was the greatest of them all, which everything we do now and until, is built upon.

As we continued with our endeavor to carry out the will of Christ for our lives, those three words, Faith, Hope and Love would be incorporated in everything we do from morning worship services, Bible Study, Outreach, to prison ministry, etc.

In October 2012, God began to speak to us about community needs and therefore, the Holy Spirit impressed upon us to change the name of the Ministry to "Faith, Hope and Love Community Church".

It is our goal to display through a life lived, Faith, Hope and Love to our community and the world. To stimulate a fight of expectation again in the hearts of mankind, that we can walk by Faith and not by sight again, we can Love again and be hopeful again in our today and our tomorrow.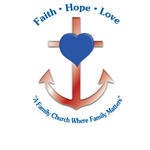 Love, Pastor Ronald and Lady Toforya McCoy

Please come see us every Sunday morning @ 10:00 am. Join us on Facebook and check out our Calendar of Events . God bless you